Carcross & Area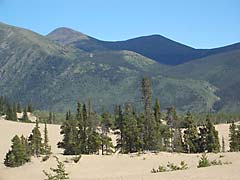 The community of Carcross is located in a spectacular setting at the northern end of Bennett Lake. The area is rich in wildlife, fish and natural vegetation.
Because of the winds that blow almost continually down the lake, the temperatures are moderated, especially in the winter. The wind is also the cause of the sand dunes that are seen throughout the area. Since the soil is constantly being worked by the wind, vegetation cannot take hold and the dunes remain.
For many years, the narrow stretch of water between Bennett and Nares lakes was used as a crossing point for the herds of woodland caribou which used to live in this region. Since the gold rush, however, when thousands of people came into the area, the herd has been depleted, although there are still small numbers of caribou left.
As well as caribou, there is a rich variety of animal life, including lynx, coyote, moose and wolverine. Seasonal hunting and trapping still provide many people with a livelihood.
Tagish Lake, third largest lake in the Yukon, has great quantities of lake trout, grayling and pike. The stream that empties into the north end of Nares Lake is a spawning ground for arctic grayling.
The region is also one of diverse plant life, with everything from boreal forest to meadowlands. Species of trees include black spruce, balsam poplar and alpine fir. There are also many different varieties of shrubs and flowers.