Getting Here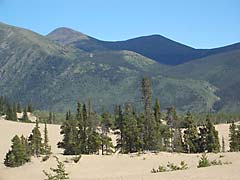 The Yukon Has Never Been Closer!
With regularly scheduled air service through Whitehorse International Airport the Yukon has never been easier to get to.
By Air
You can fly to Whitehorse international airport from Vancouver, Edmonton or Calgary. In the summer months, Whitehorse also has direct service to and from Frankfurt, Germany
Air North
Yukon's own airline.
With service from Calgary, Edmonton & Vancouver.
Air Canada
Regular service from Vancouver
Fly Zoom
Transatlantic service from Glasgow and London Gatwick in the UK to Vancouver, Edmonton or Calgary.
Thomas Cook - Condor
Direct flights from Frankfurt to Whitehorse.
By Road
The Yukon is connected to British Columbia by two highways. The 2,275-kilometer Alaska Highway begins in Dawson Creek, B.C. and traverses the south and southwest regions of the Yukon on its way to Fairbanks, Alaska. The distance between Dawson Creek and Whitehorse is 1,430 kilometers. The paved road is well maintained and offers services along its entire route.
Highway 37, also known as the Stewart-Cassiar Highway, is the other road connection between northern British Columbia and the Yukon. Highway 37 branches off from the Yellowhead Highway, which connects Prince Rupert to Prince George. The highway then winds its way for 724 kilometers to the Yukon border. The road is mostly pavement, with some gravel stretches. Services are more limited than those found along the Alaska Highway.
There is regular bus transportation from southern Canada and the Lower 48 to Whitehorse and points beyond along the Alaska Highway.
By Ferry
Car and passenger ferries regularly ply the beautiful Inside Passage along the Pacific coast of British Columbia and Alaska. B.C. Ferries connects Port Hardy, at the north end of Vancouver Island, to Prince Rupert. The Alaska Marine Highway provides service from both Bellingham, Washington and Prince Rupert, British Columbia to communities throughout southeast Alaska, including Ketchikan, Juneau, Haines and Skagway.
By road, Skagway is only two hours from Whitehorse. The drive from Haines to Whitehorse via the Haines Road and Alaska Highway is approximately five hours, but this route offers the opportunity to visit Kluane National Park along the way.
Links to other sites:
SKKY Hotel - upscale Whitehorse Hotel